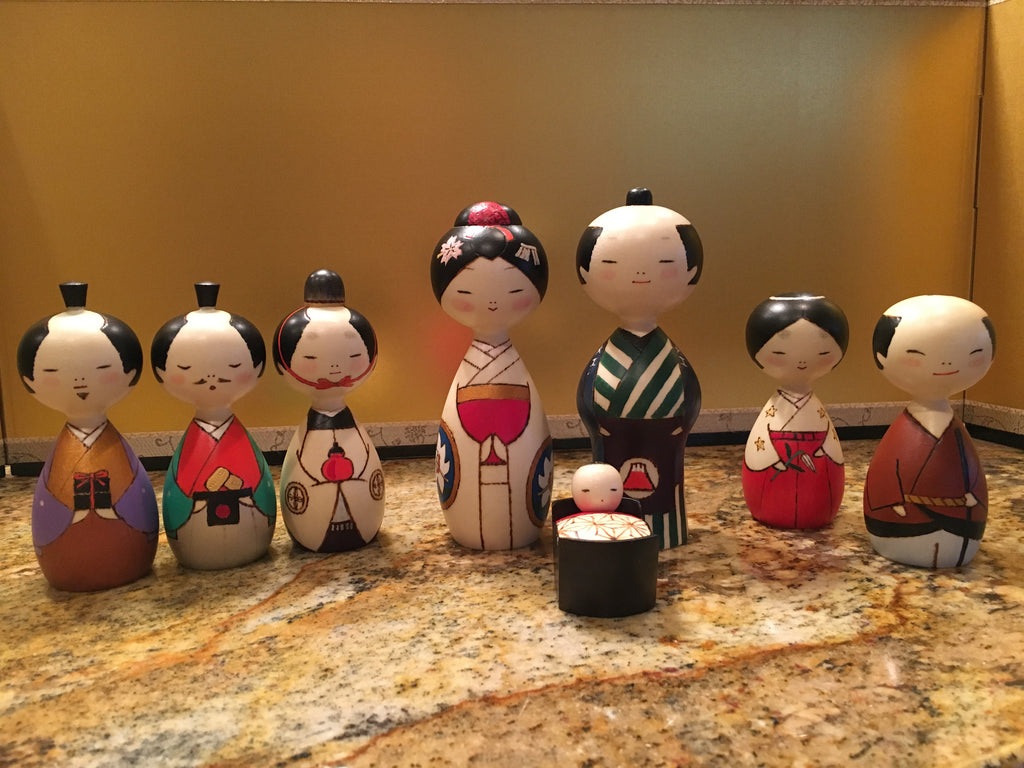 Special 8-pc Kokeshi Nativity Set
This beautiful detailed 8-pc Special Kokeshi Nativity Set is from my only female Kokeshi artist. Set includes the following dolls:
Joseph is 6 inch wears a green stripe kimono with a blue overcoat with detailed carving on the back and carved Mt Fuji on the front
Mary is 6 inch wears an ivory kimono with a red obi that extends down her back. Kimono is decorated with 2 carved white lilys. She wears decorative ornaments in her hair
Baby Jesus is nestled safely in a small manger, with detailed blanket
Angel is 4.25 inch wears an ivory and red kimono decorated with gold stars and carry one flower. Carved white wings on her back
Shepherd is 4.25 inch wears a brown overcoat tied with a rope belt and carry a staff
3 Wisemen are 4.75 inch each is different colored kimono carry gold, frankincense, and myrrh  
The artist name is stamped on the bottom of each doll. Set also comes with a wooden placard (kifuda) with the artist name Set includes a piece a red fabric to display the set. 
This set is the most detailed set I have ever had. It's beautiful crafted, hand painted and hand carved. This will be a treasure for many, many years to come and the perfect gift for the Nativity collector.